What you should know about the advantages of printing different names, languages, numbers and codes - in one run!
#DIGITRAN digital heat transfers can do all that, without the use of solvents or UV-curing inks! Here are 4 applications where having this technology can be a huge benefit:
1) Personalize giveaways for your clients by printing everyone's individual name on it.
2) Get different language versions of your hand cream printed without stopping the machine.
3) Create unique codes to track your products, promote special events or raffles.
4) Make a special edition spirits and give every single bottle a unique number.
These are just a few applications which boost your designs and products to be more unique and add additional value to them. Let's face it, that is what print is all about.
Furthermore, you can change the artwork within one print run as often as you want, without stopping your heat transfer machine at all! By doing this with digital heat transfers you do not have to mess with inks, print heads, curing, drying, bad odor and benefit from simply applying a perfectly printed heat transfer.
Curious? Then get in touch with us now to learn how you can benefit from digital heat transfer technology!
Click this button to get in touch with us for a personal consultation. To make sure that your products can benefit from this unique, clean and digital printing technology as soon as possible.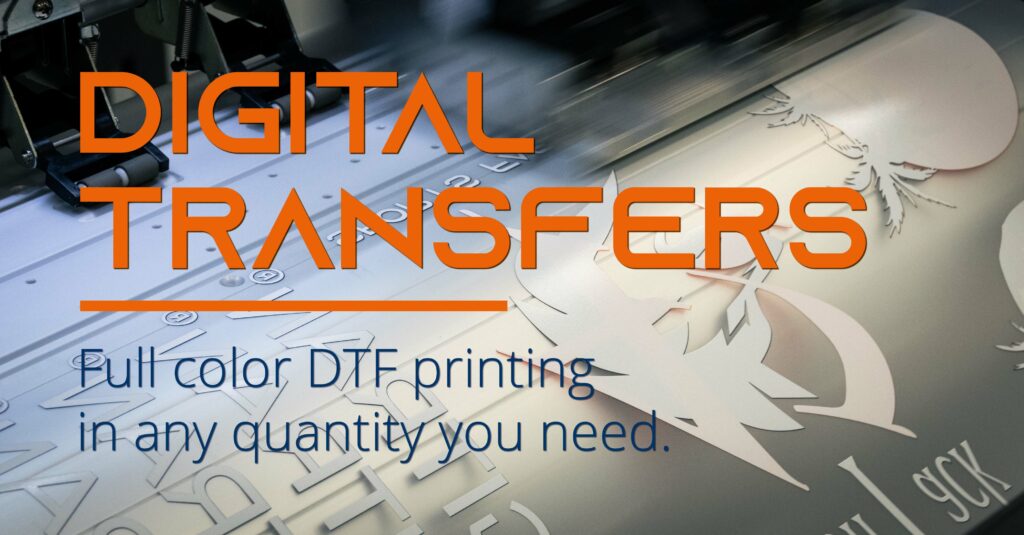 The solution for custom designs on t-shirts, hoodies, bags, sportswear and workwear: DTF Digital Transfers.
Thanks to the combination of digital printing and heat transfer technology, textile transfers can be printed in small quantities, full-color and in the shortest possible time. Thus, the outstanding opacity and feel known from plastisol and screen printed transfers is now also available in small quantities.
Variable Data Printing with Digital Heat Transfers