Our guide to buying a DTF printer
Are you thinking about buying a DTF printer? The world of Direct to Film (DTF) printing offers a versatile and profitable method for applying high-quality, full-color designs onto a variety of textiles including apparel, bags and more. In this comprehensive guide, we'll ask important questions and provide valuable insights to help you make an informed decision about purchasing a DTF printer.
Is buying a DTF printer worth it?
Before you decide to purchase a DTF printer, it is important to verify that it is a worthwhile investment. The answer depends on your business goals and requirements. DTF printing offers numerous advantages:
Versatility: DTF transfers can be applied to a wide variety of fabrics and materials, making it ideal for custom apparel, promotional items and more.
High-quality Prints: DTF printers produce transfers vibrant, detailed designs that stand out.
Cost-effectiveness: For short to medium print runs, DTF printing can be cost-effective compared to other methods.
Customizability: Direct to Film printing allows for easy personalization, making it a popular choice for unique merchandise.
Profitability: This type of digital transfer printing can be a profitable addition to your business because you can offer unique, custom-printed products that command premium prices.
To make a decision, evaluate your specific business needs and budget to ensure DTF printing meets your goals.
Choosing the right DTF printer
Choosing the right DTF printer is a crucial step that significantly affects print quality and efficiency. Consider the following factors for your printer purchase:
Print Size: Determine the maximum print size required for your projects and choose a printer that takes these dimensions into account.
Print Speed: Assess your production speed needs - faster and wider printers for long runs, slower and narrow models for smaller businesses.
Resolution: Choose higher resolution printers and print modes for sharper, more detailed prints that meet your quality standards.
User-friendly Interface: Make sure the printer has user-friendly software and interfaces that allow for easy operation and staff training.
Maintenance: Evaluate maintenance requirements as some models require more frequent maintenance.
The preferred DTF printer: Flexline DTF600 MK-II
For those looking for a reliable printing system when buying a DTF printer, we can recommend the Flexline DTF600 MK-II. This model offers exceptional features:
High Resolution: The Flexline DTF600 MK-II offers resolutions up to 2400x720dpi, ensuring stunning, detailed designs.
Wide Printing Width: With a web width of 60cm / 24'', you can implement various projects from logos to full-size designs.
Reliability: White ink circulation, stirring, stable inks as well as various filters make the system known for its reliability and minimal maintenance requirements, which reduces downtime.
User-friendly: Intuitive user interface and multilingual RIP software make it accessible to both novice and experienced operators.
Compatibility: The FlexLine DTF600 MK-II integrates seamlessly with its consumables to ensure best-in-class performance in many applications.
DTF printing with any printer?
Besides special DTF printing systems, there are also modified printers in the market. But not every printer is suitable for this type of printing. It requires specialized equipment that can handle the unique process of heat transfer onto textiles. Suitable inks, films and adhesives must be able to be processed cleanly and safely with the printer. Attempting to print with an incompatible printer can result in poor quality prints or even damage to the equipment.
For optimal results, it's critical to invest in a dedicated DTF printer designed specifically for this purpose, ensuring vibrant, durable prints and hassle-free operations.
Exploring DTF consumables
Understanding consumables and the transfers is critical to successful DTF printing business:
DTF Consumables: These include film, ink, powder and transfer presses. Each of these components plays an important role in achieving consistent, high-quality results and must be matched with the other components.
Interaction: An integral part of the printing process is the interaction between software, printer, input materials, transfer press and textile. When done properly, the process offers accurate color reproduction, reduced ink consumption, and long durability.
Proper Storage: Store DTF consumables and transfers in a cool, dry place away from direct sunlight and moisture to preserve their quality and follow the directions on the products (don't forget to shake the ink).
Conclusion
In summary, when you consider buying a DTF printer, you enter the world of advanced printing capabilities for your business with versatility, exceptional print quality and customization options. When choosing the right DTF printer, consider factors such as print size, speed, resolution, ease of use and maintenance. The Flexline DTF600 MK-II stands out as a reliable choice for your DTF printer purchase, combining seamlessly with consumables to ensure outstanding results.
With the right equipment, consumables, and knowledge, you can take your printing business to the next level and offer your customers exceptional custom printed products that stand out in a competitive market.
Stay tuned for more printing tips and insights in our upcoming articles. Make your DTF printer purchase decision wisely to take your business to new heights.
And for deeper insight, again, we're always available to help.
Get in Touch
for a non-binding and personal consultation on the subject of DTF printers.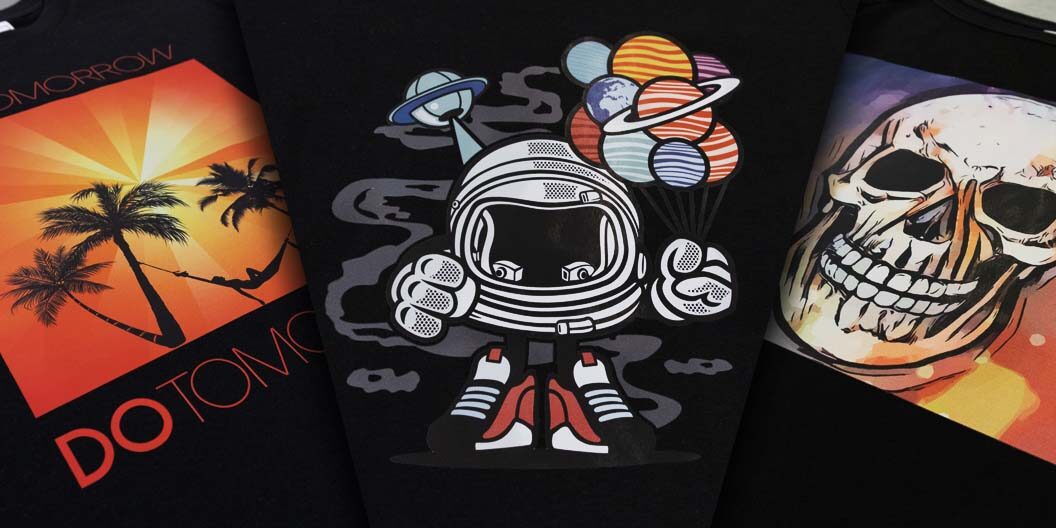 DTF Printer Buy - The DIGITRAN FlexLine
Our solution for advanced users.
To be able to produce transfers in digital printing yourself, a DTF (Direct to Foil) printer is the best choice. Such machines consist of a printing unit and a finishing unit, which are built in line. Such a machine system is e.g. the DIGITRAN FlexLine DTF600 MK-II.
This DTF printing machine is equipped with two high-quality and durable print heads and optimized for FlexInk inks. High ink coverage, color fastness, washability and OEKO-Tex certification are just a few of the advantages this system offers you.
In addition, this system relies on a hot-melt powder with which cotton, polyester as well as blended fabrics are easy to print. The powder unit also ensures that the powder is applied evenly to the print without clumping. After tapping, the printed image is dried in a drying tunnel using IR lamps. The printed film is then cooled and wound onto a roll.
Thanks to this fully automatic printing technique, multicolored motifs can be printed quickly, easily and cost-effectively. Without screen production, cleaning or additional drying.
Click on the button to contact us directly and receive individual consultation. So that your products can also benefit from this unique, clean and digital printing technology as quickly as possible.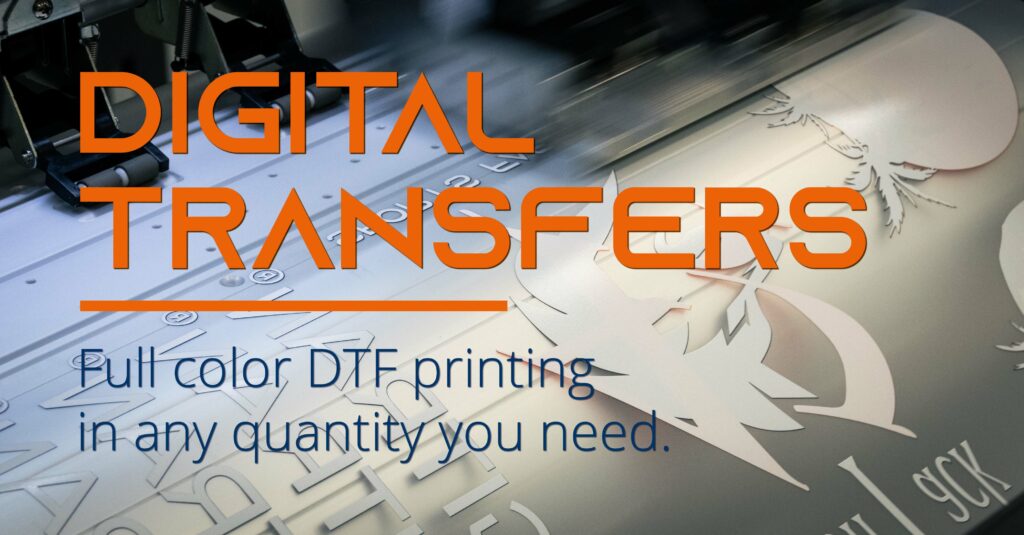 The solution for custom designs on t-shirts, hoodies, bags, sportswear and workwear: DTF Digital Transfers.
Thanks to the combination of digital printing and heat transfer technology, textile transfers can be printed in small quantities, full-color and in the shortest possible time. Thus, the outstanding opacity and feel known from plastisol and screen printed transfers is now also available in small quantities.