Finest cosmetic and beauty product printing
Digital printing for cosmetic tubes, mascaras, perfume bottles, lipsticks and more.
The DIGITRAN process opens new doors when it comes to cosmetic product decoration. Based on a digital printing technology it does not only offer photo-realistic print quality, but also makes the production of small and medium sized orders cost-efficient.
With this technology you can print on lipsticks, mascaras, perfume bottles, jars and cosmetic tubes with personalized or serialized artworks transforming the product into an unique experience for the customer. Furthermore, printing finest lines, smallest texts and nearly invisible security marks is not a problem at all. No matter if it is a traditional one color or a young and fresh photo-realistic design, cosmetic and beauty products printed with DIGITRAN digital heat transfer stand out.
Benefit from the perks of digital printing for you special editions, ad specialty items, new releases or start-up products. We would be happy to help you with finding the perfect approach to improve your portfolio and make your products stand out.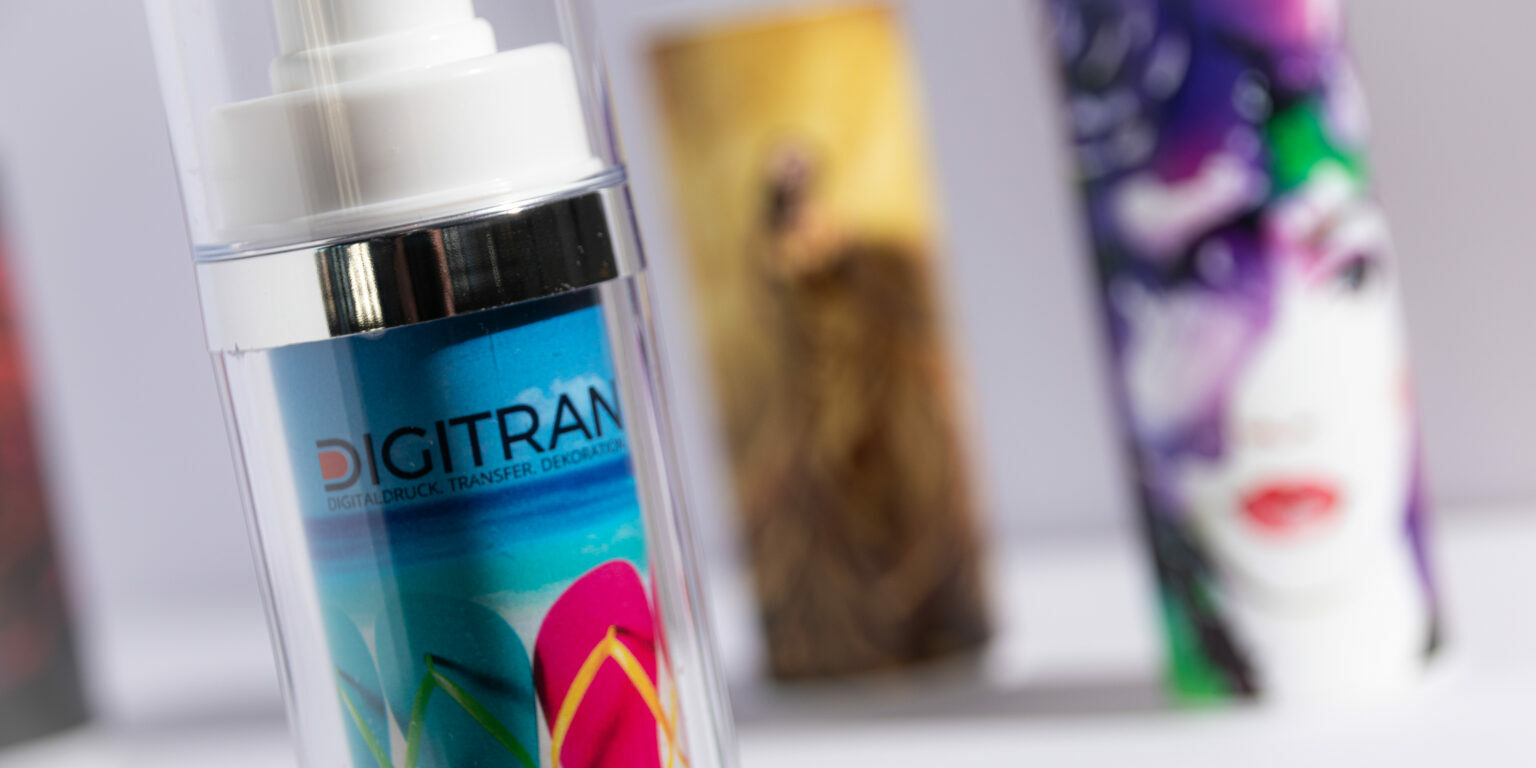 Digital Printing for Cosmetic and Beauty Products
The DIGITRAN process can be used to decorate a wide range of materials.  These include plastics such as HDPE, LDPE, and SAN. Worth knowing is that the process does not require a pretreatment for PP at all. Furthermore inorganic materials like metals, glass or ceramics can be decorated as well. This means that the whole range of beauty and cosmetic products from a cosmetic tube to jars or perfume bottles can be printed.
To have a sustainable and safe to use technology our digitally printed heat transfer decals are produced with water based materials only and do not contain any UV curing inks.
All you need to decorate your products with 1200 dpi prints is a heat transfer machine and the DIGITRAN heat transfer decals.
For the printing part you just send us your files which we will print of a carrier material, wind them into handy rolls and ship them to you within a few days. Using heat an pressure these digital heat transfer decals can be applied to you cosmetic and beauty products.
Long story short: It is the cleanest process for a photo-realistic print on beauty and cosmetic products. Produced just in time and for nearly all quantities.
Get in touch now to receive a sample roll or to talk about other sampling options.
Contact us now
And convince yourself about the quality of the DIGITRAN process.
Depending on your cosmetics and beauty products DIGITRAN heat transfer machines are your best choice for decorating them. No matter if it is a tube, lipstick, jar or anything else.
We offer a fully automatic solution for tubes as well as a semi automatic machine for almost any shape and product you can think of.
Here you can find more information on our products.