THE DIGITRAN HEAT TRANSFER PROCESS
Digital printing meets heat transfer decoration
The DIGITRAN heat transfer process represents a unique combination of digital printing and heat transfer technology. The result: A process that allows for high resolution decorations to be applied on a wide range of products.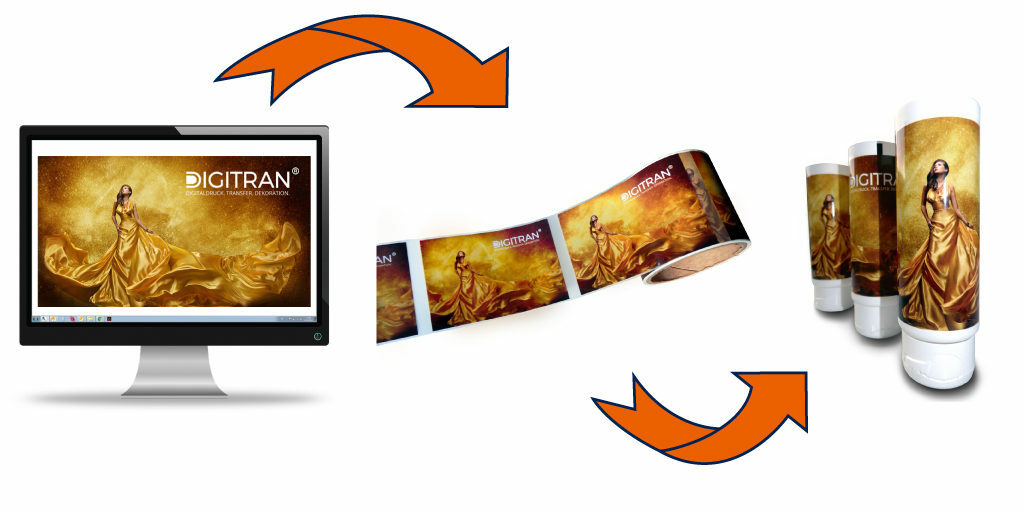 The DIGITRAN process start with electrophotographic printing of photo-realistic images on a carrier material. The carrier is therefore refined by a special technology and gets slit and wound up after the printing process resulting in some handy rolls. These will be sent to our customers who will then place the rolls in a heat transfer machine and apply the prints to the product.
The digitally printed heat transfer decals are produced with a four color process (CMYK) and an opaque white as fifth color. With those five colors a photo-realistic print with a resolution of 1200 dpi can be achieved. In regards to the printing width anything from a small dot to 320 mm can be realized yet the printing length has close to no limits. Therefore printing an endless repeat of personalized, serialized or in any other way varying prints is possible. To ensure that the colors we print match the colors that are expected we developed our own workflow leading to a reliable color reproduction.
For the transfer process the heat transfer decal gets position according to the shape of your product. Using a heated silicone roller or plate the print gets activated and pressed onto the product. During the transfer process the carrier releases from the print and will be wound up to be recycled later. Due to a range of different adhesive technologies the transfers can be designed to adhere to almost any material.
Right now the process is in use for the decoration of tubes, cosmetic packaging, yardsticks, ad specialty products and many more.
Good to know: DIGITRAN heat transfer decals are have be tested and approved by an independent institute and fulfill the requirements for the indirect food contact and toys as well.