Print Airless Dispensers with Digital Printing
Custom printing starting at 200 pcs.
DIGITRAN offers you the optimal solution for digital printing of airless dispensers. Here you can provide your own products or purchase them directly from us. With our digital printing technology, we can make each dispenser unique and put your brand in the spotlight. For this we print with photorealistic, 1200dpi in a process without VOCs and UV. From full service to individual puzzle pieces, we are here for you.
We can print airless dispensers from as little as 200 pieces. From start-ups and special editions to regular productions, we are at your side. We can also print personalized and serialized designs for you. From sequential numbers and codes to languages or names. Every airless dispenser can be individualized and thus become unique.
Our airless dispensers are equipped with pump heads that dispense 0.3ml of formulation per stroke. They also meet the ECOCERT/COSMOS standards for organic or natural cosmetics.
Filling from the top makes it easy to use various formulations of different viscosities.
Airless dispenser printingContract decoration as a service, even for small quantities.
Especially for the printing of small quantities, our decoration service offers a high added value. Here you can have your airless dispensers printed with our DIGITRAN heat transfer images.
Quick and easy
With our own warehouse, we can store your unprinted airless dispensers directly with us and print them just-in-time for you. Alternatively, you can choose one of our dispensers and have it printed. To ensure a fast and reliable process, we have a variety of machines ready to go. Through close partnerships in the industry, we guarantee not only exceptional quality, but also the flexibility to print even the smallest quantities. This means that only a few weeks pass from receipt of the order to completed production.
Small production volumes and individualization
Regardless of whether it's 200 or 100,000 airless dispensers, the quantity doesn't matter. Even printing different designs as well as personalized designs does not pose a challenge. It is possible, for example, to print a design in several languages without the need for additional preparations. From new products and limited editions to start-ups, influencers and creative concepts - with us you have the opportunity to design your airless dispensers according to your ideas.
Individual requirements and special designs
You want to fill your product in a special airless dispenser or you are looking for a product that you cannot find on our website. With our network in the beauty and cosmetic industry we can help to find the right solution.
Contact Us
and convince yourself of the quality of the DIGITRAN process.
Airless dispenser digital heat transfer printing
Airless dispensers printed with our digital heat transfers are characterized by a number of noteworthy properties. This printing method offers not only safety, but also harmlessness. Neither solvents nor UV-curing monomers are used in this process. In addition, no migration of our heat transfer images through the printed airless dispensers has been observed to date. This ensures that the ingredients are not contaminated by applied print. At the same time, the printed images achieve an exquisite gloss and a pleasant feel. A matte finish is also optionally feasible.
Another advantage of this process is its efficiency. As soon as the heat transfer image has been applied to the airless dispenser, the decoration process is complete. No further curing or cooling phases are required, which means that the airless dispenser can be processed immediately.
To make the process as effortless as possible for you, we offer a comprehensive range of services in the field of airless dispenser printing. This includes not only digital printing of the heat transfer images and our decoration service, but also the provision of equipment. Here, all options are available for selection.
Whether you want to decorate yourself or make use of our printing services, the process is suitable for a wide range of airless dispenser types.
In short, this unique, environmentally friendly product offers a versatile solution for digital finishing of airless dispensers!
Get in Touch
and implement your next project quickly and cost-effectively.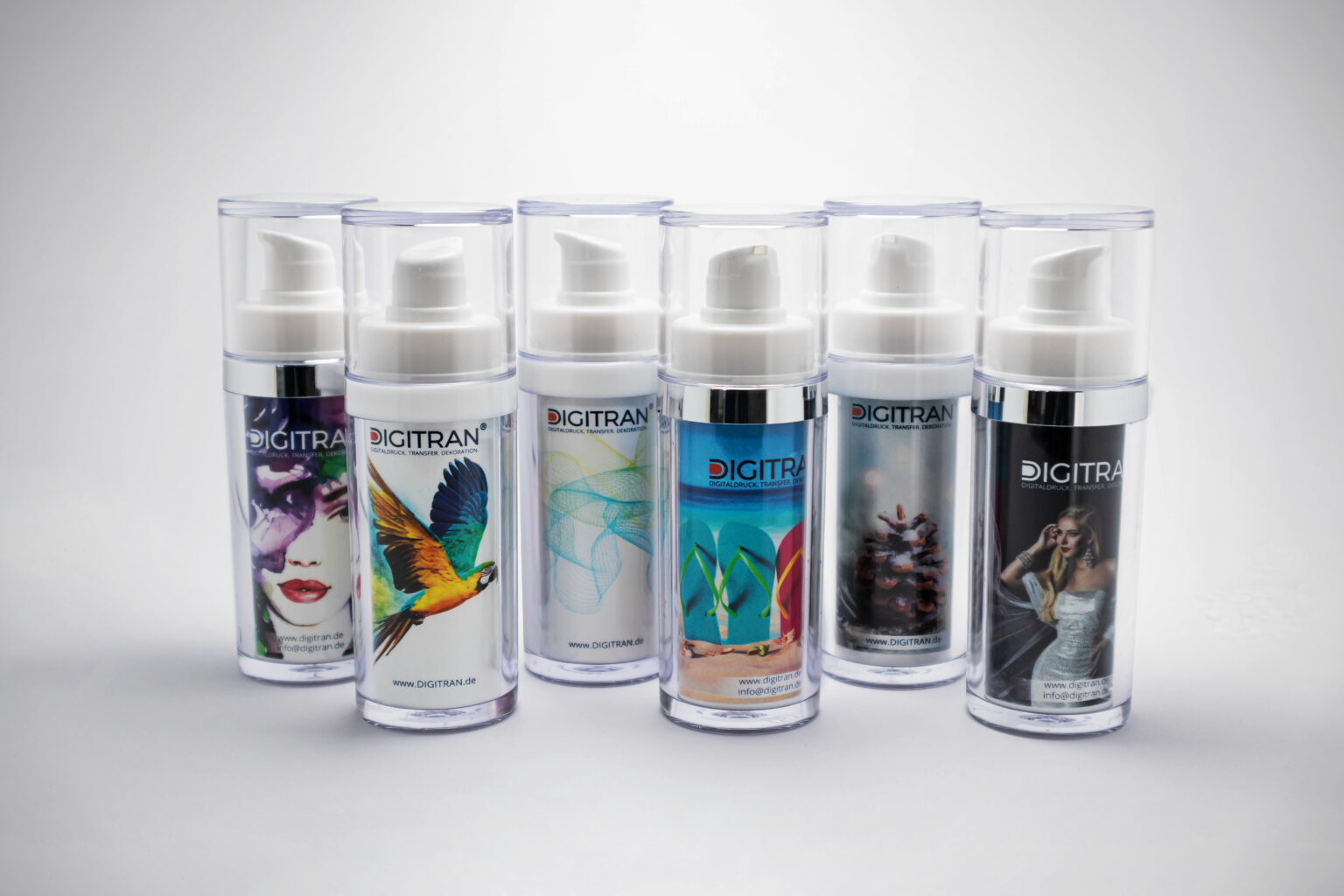 Here you will find further information about our products.