Digital heat transfer cosmetic tube printing
The best in digital printing for your cosmetic tubes - at any quantity
The DIGITRAN heat transfer process is the perfect choice for printing cosmetic tubes. Due to the unique combination of digital printing and heat transfer decoration photo-realistic prints with a resolution up to 1200 dpi can be applied to almost all tubes. It does not matter is its a cosmetic tube for the cosmetics and beauty segment or a tube that is designed for the food or industrial markets.
With our decoration service, we can print your designs on the tubes of your choice. Furthermore, digitally printed heat transfer images are also available for your own printing department and for newcomers we can help finding the right equipment.
Benefit from adding a cost-efficient solution to print small and mid size orders to your portfolio. Furthermore personalized or serialized print runs can be done with this printing technology. From ongoing numbers to codes, languages or names, using the DIGITRAN digital heat transfer process you can offer all this to your customers and print tubes with a outstanding designs.
Our Solutions for Printing Tubes
Heat transfers to be used with your heat transfer or hot stamping machine.
We print for you. Just send us your print data and tubes and we will do the rest.
Would you like to get into tube printing yourself? Then we have the right equipment.
Why DIGITRAN to Print Tubes
Tubes printed with the DIGITRAN heat transfer process stand out due to various specialties. First of all it is a safe and harmless technology. This means that the prints do not contain any solvents or UV curable inks. Furthermore all test done by our clients have shown that the transfer does not migrate through the tube. This way we can make sure that the content of your tube will not be contaminated with the print. On top of that the decorations achieved with heat transfer decals have a nice gloss and touch.
Another advantage comes with the process itself. Once the digital heat transfer has been applied to the tube it is finished. There is no need for further curing or drying which means that the tube can be filled or shipped right away.
To make printing tubes as easy as possible DIGITRAN offers a full service solution. Starting with a digital printing service for heat transfer decals to a variety of heat transfer machines and even a decoration service. You can either decorate yourself or let us take care of it. For the process it doesn't matter if its a PP or PE, coated or uncoated, 6 or 250 ml tube.
In short: It is a unique, reliable and green product, which is versatile in use, for the digital heat transfer decoration of industrial or cosmetic tubes.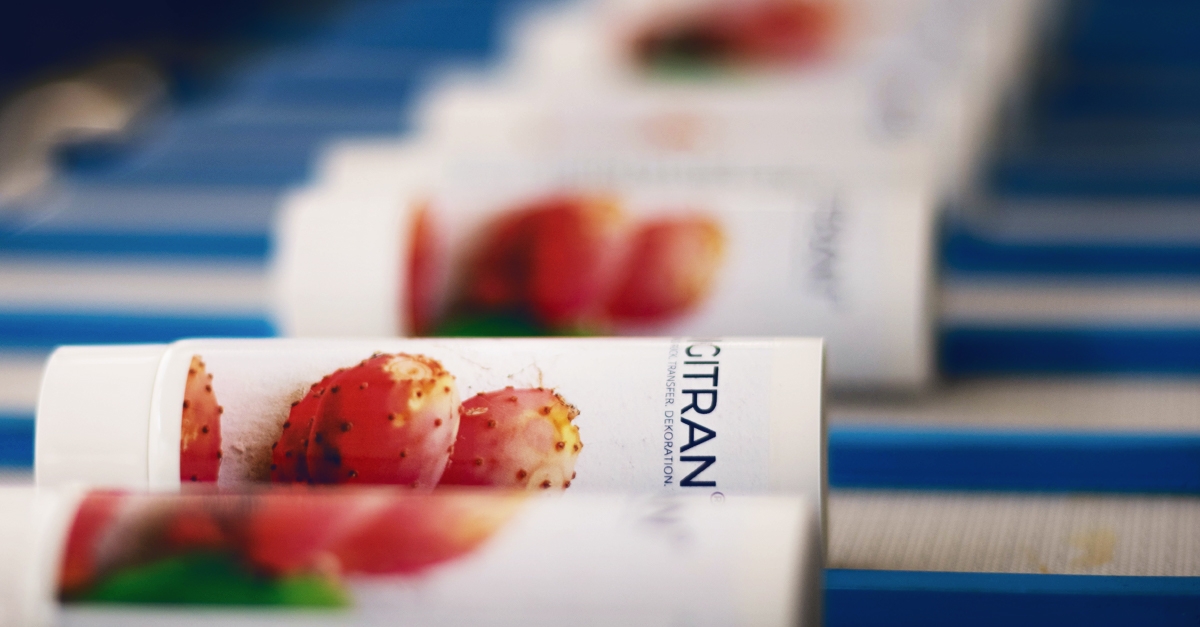 Tube Contract Decorating Service - Also for Small Volumes
Especially when it comes to printing small volumes you can benefit a lot from our contract decorating service. In this case we print your cosmetic tubes with DIGITRAN heat transfer technology.
Fast and Convenient
With out own warehouse we can store your tubes right on site and print them just in time. To do so we have a several machines in house as well as several cooperating partners. Due to this we cannot only ensure an outstanding quality, but also a high flexibility when it comes to printing small volumes. As a result, it takes only a few weeks from order entry to shipping your printed tubes.
Small Quantities and Personalized Designs
We offer this service for as few as 200 and up to 100,000 or more tubes. Even printing different or even personalized designs in one run is no challenge for us. Moreover, it is possible to print on design in different languages without any downtime for tooling or make-ready. From new products to special editions or start-ups. With us, you can get your designs printed onto any cosmetic tube.
Your Partner for the Next Step
Once your products have reached a high volume or you simply want to insource the decoration process, we are here to offer you the most suitable heat transfer machine to do so. From semi-automatic machines like our DIGITRAN TU to fully automatic machine systems as the DIGITRAN TRR.
Contact us now
And convince yourself about the quality of the DIGITRAN process.
Heat Transfer Machine for Printing Tubes
Here you can find some additional information on our products.