Changing designs paired with an ongoing number on a cosmetic tube. Absolutely no problem. You think it, we print it.
These 20ml cosmetic tubes have even more than those two features. Take a close look at the grey line right below the red, ongoing number. Believe it or not, this is a 1-point small text printed in bold or regular style. Besides that the colorful lines are called a "guilloche", which is used mainly as a security feature on money.
On the tube itself. It is a standard, coextruded PE tube without any coating on it. The filling is a sunscreen as these were designed as a giveaway, showing what can be done with DIGITRAN digital heat transfers.
The decoration itself was done on a fully automatic DIGITRAN TRT heat transfer machine, which comes with an integrated pretreatment. The transfers used were our all-time favorite, which can be used for almost any product. The key is that those tubes were printed and decorated back to back! No tooling, no downtime! Thinking ahead, this means that you can mix and match artworks, as long as they are for the same size product!
Of course this technology can be used to decorate all kinds of cosmetic tubes from as small as 6ml lip balms to 200ml shower gels.
Are you already thinking on how this can be used with your tubes and how you can benefit from this? Then get in touch with us now to turn your idea into profit!
▶ You need a few hundred tubes printed as a service? We do that!
▶ You want to decorate tubes with your own equipment? We have a machine for you!
▶ You already have equipment and just need digitally printed heat transfers? Absolutely!
Related Links: https://www.digitran.de/en/digital-printing-cosmetic-tubes/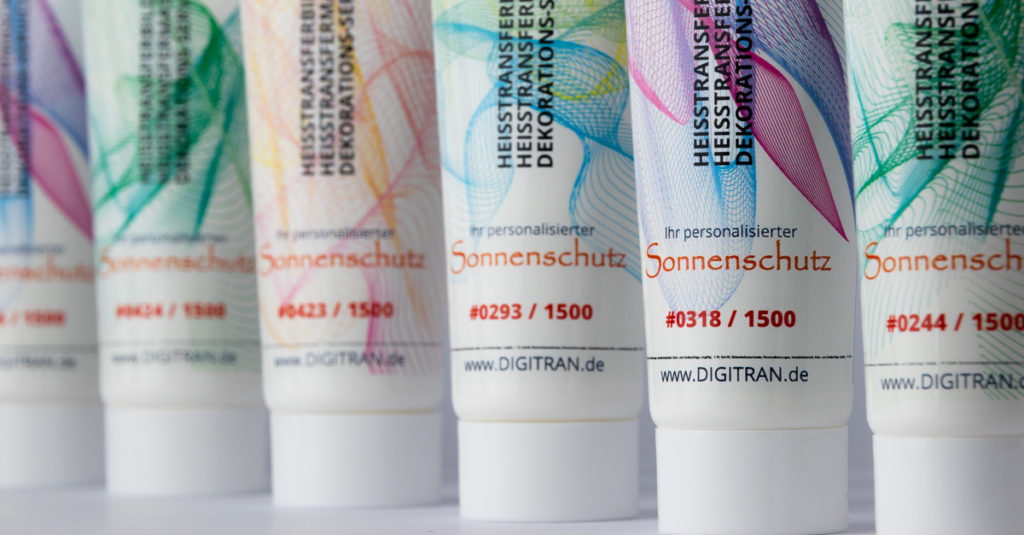 What you should know about the advantages of printing different names, languages, numbers and codes – in one run!
Starting with printing different names on promotional products over serialized special editions to a print run with every image being different. With digital heat transfers you can achieve all this. Without UV, without solvents and without stopping your heat transfer machine.
CMTD – Serialized Cosmetic Tube Printing