Yes, this is a 1 pt. text and yes, it is a transfer! With DIGITRAN digital heat transfers that is how fine you can print. Not only to show off, but to print security features hidden in your design.
The small font is just an example of implementing a security feature for your product. Therefore, it can be used as a stand-alone element or hidden somewhere within your design. In both cases it is almost impossible to be copied by any other printing technology.
One application example would be to make it part of the INCI box framing. Where most people would see nothing but a grey line, you know that it is text or a pattern, making it your original.
Of course, the super fine print quality does not only shine when it comes to security features. It is even better when used for printing photo-realistic artwork. If it is skin tones or gradients going towards 0%, our prints make your product look good. No matter if you are into cosmetics, promotional items, toys, or any other type of packaging, we have something for you.
Furthermore, we got you covered even at the smallest quantities. If you are a start-up launching a new product, or an established company creating a special edition or a manufacturer running a regular production that should just look awesome. And all that without messing with solvents or UV-curing!
Did we catch your attention? Then get in touch with us now and we will tell you even more about how you can benefit from this technology!
Side note: The 1-point small text has a maximum height off approx. 0.25mm, which is so small that it took us several attempts to even take a photo of it!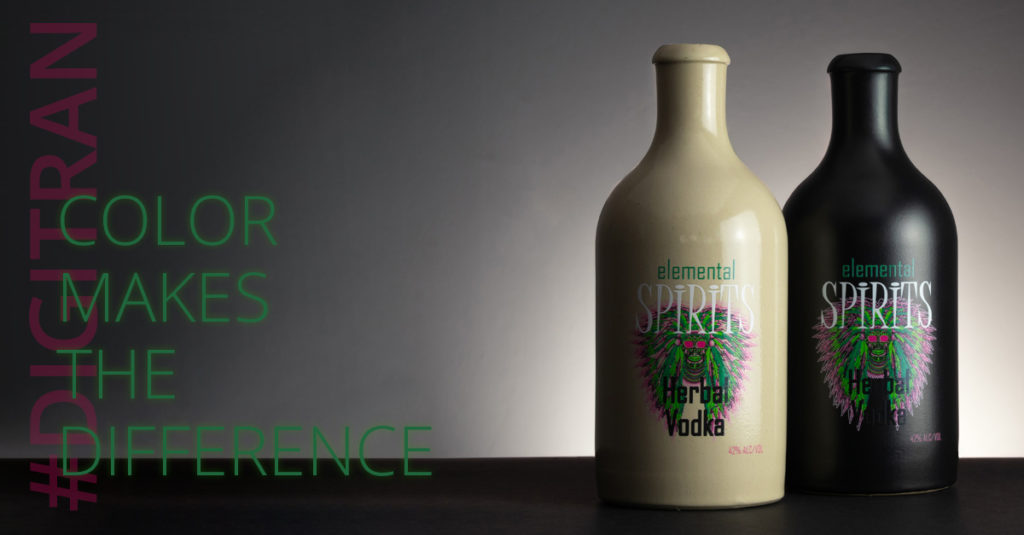 Ceramic bottles are perfect to give your spirits a unique look.
Not only do they look different than all those glass bottles, but they will also protect your drink from sunlight!
Furthermore, you don't need a primer, curing, or drying. Once the image is applied the bottle you can be fill or pack and ship it right away.
Digital Heat Transfer Printing for Fine Details and Security Features