Airless dispensers are up and coming, just like our digital printing solutions for them.
For mandrel carried products such as airless dispensers, shells, or cosmetic tubes, DIGITRAN offers a range of digital heat transfer printing solutions:
1) The printing of digital heat transfer decals
Benefit from not printing yourself. No UV, no solvents, no messy inks. Furthermore, we print these at any quantity and with the highest digital print quality. These compact rolls with then be shipped to you and all that is left is to apply the transfers.
2) Fully automatic and semi-automatic heat transfer machines
You love the print quality and the hassle-free process. Then we will set you up with a heat transfer machine that fits you needs! From a hand fed solution to begin with to fully automatic machine systems. Even robotic tray to machine or puck systems can be combined with our machines.
Still love the quality for your products but printing is just not your thing. Then send us your products and artwork and we will do the rest! From our production sites in Germany and the US East Coast we get you products printed in no time.
No matter which solution fits your business concept best, we got you covered.
Click this button to get in touch with us for a personal consultation. To make sure that your products can benefit from this unique, clean and digital printing technology as soon as possible.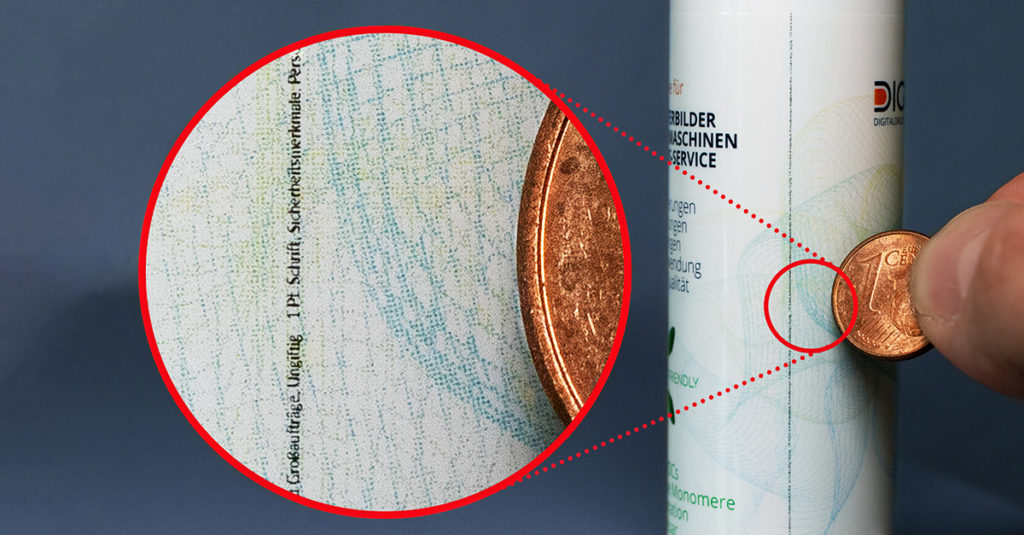 Yes, this is a 1 pt. text and yes, it is a transfer! With DIGITRAN digital heat transfers that is how fine you can print. Not only to show off, but to print security features hidden in your design.
The small font is just an example of implementing a security feature for your product. Therefore, it can be used as a stand-alone element or hidden somewhere within your design. In both cases it is almost impossible to be copied by any other printing technology.
Airless Dispensers – Pump, Not Squeeze