Direct to Foil (DTF) digital heat transfer printer for textile transfers
The DIGITRAN FlexLine DTF600 is the digital heat transfer printing solution for textile transfers - from roll to roll. Our In-Line DTF (Direct To Foil/Film) printer enables the fast and easy production of transfers for your textile printing business. For this purpose, the digital printing machine is extended with the FlexFinish600 powder and drying unit. Thus, after printing, the adhesive powder can be sprinkled into the ink fully automatically. Excess adhesive is also removed with the subsequent jogging unit. Finally, the image is dried with a powerful IR heater and then wound up. Here, the printed images can be easily removed, cut to size and shipped or applied.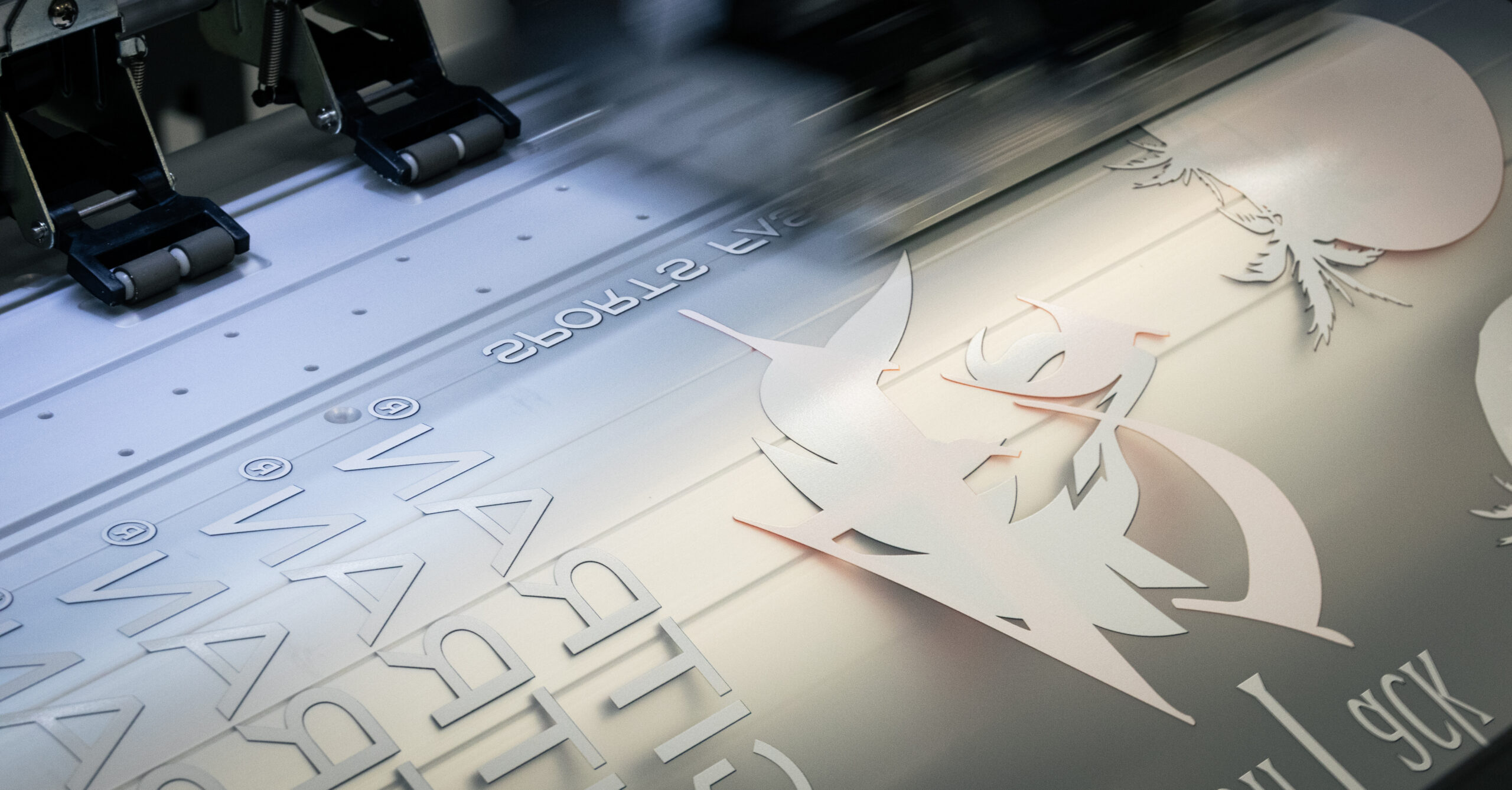 Digital DTF Heat Transfer Printing
The digital printing machine of this direct to foil/film machine system is equipped with 2 robust EPSON print heads of the current generation. These can print in CMYK with a high opacity white and a resolution of 720x1800dpi. Even the finest elements and gradients can thus be printed. For the eco-friendliness, we also work with water-based, OEKO-TEX certified inks. Furthermore, automatic cleaning cycles ensure maximum durability of the print heads.
This digital heat transfer printer is designed for a maximum print width of 600mm and can print  suitable on hot-peel or cold-peel films.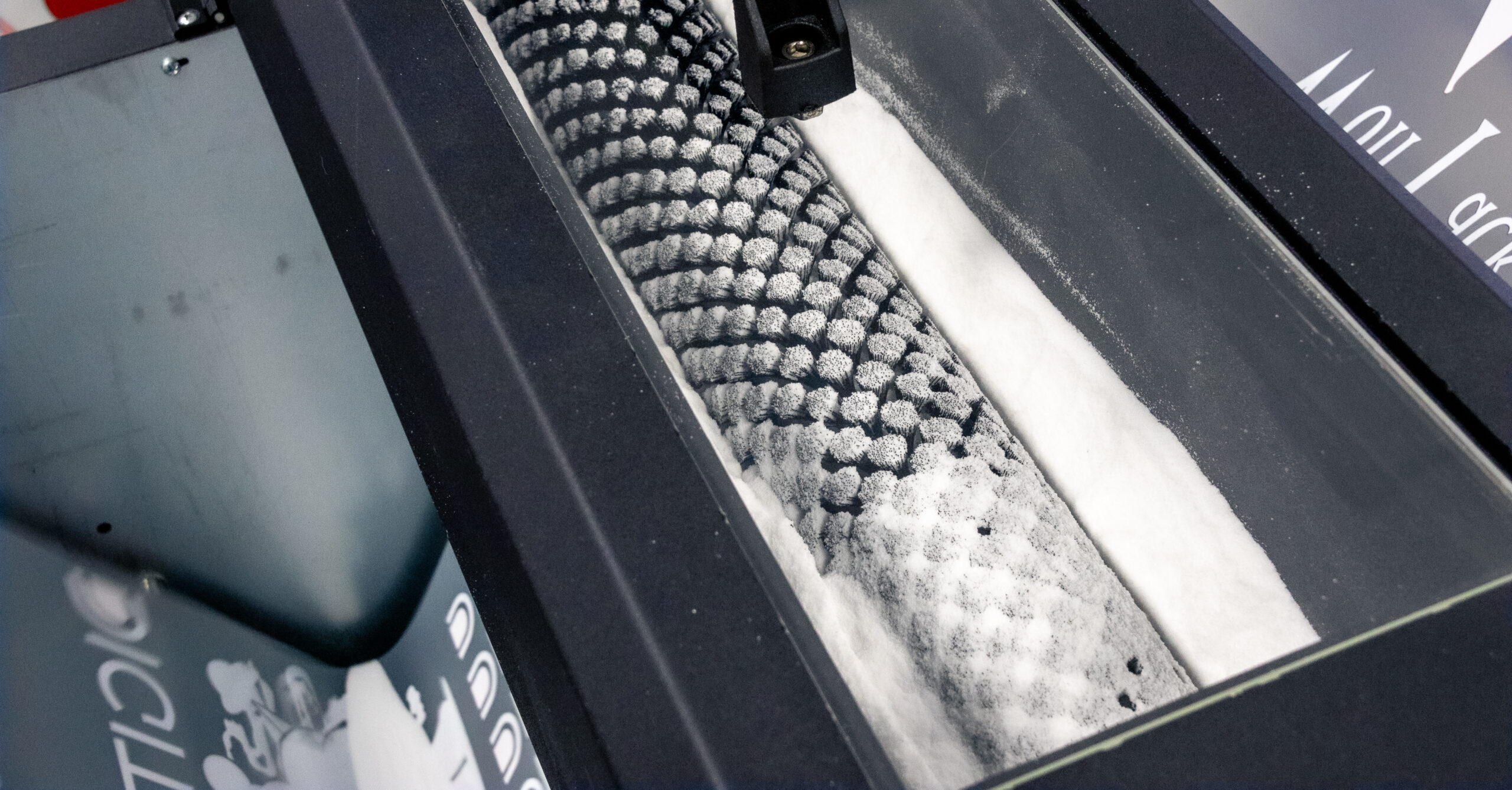 The Finishing Module
The FlexFinish600 module is positioned in line with the press and is responsible for finishing the transfer. The hot melt powder is crushed with a brush and distributed over the still wet print image. Due to this, the powder will stick to the ink. Excess adhesive powder is then tapped off in a controlled manner so that no residue remains on the unprinted film. Efficient IR drying is then used to dry the image and bond it to the adhesive. Finally, a fan ensures that the finished print image is cooled down and can be wound up as a roll without sticking.
Request Your Sample or Demo Now
And see the quality of the DIGITRAN FlexLine DTF600 for yourself.
OEKO-TEX water-based ink
Max. 720x1800dpi resolution
2 print head system
Adjustable white print for light / dark textiles
Printing, powder and drying in line
Color Management for extreme color accuracy
Automatic cleaning cycles
Efficient printing width of 600mm
Maximum print quality in 6 and 12 pass mode
Sport mode for breathable transfers
For various textiles and applications
Perfect stretch and washability
With our DIGITRAN FlexLine DTF600, you can add a perfect digital solution to your transfer production. Perfect for smaller batch sizes, multi-color designs and short response times.
Why DTF (Direct To Foil/Film) Printing
Digital Textile Transfers - Perfect for small and medium batch sizes
In-Line DTF printers are the perfect solution when it comes to small and medium batch sizes. Since no make-ready is required for printing, any color, shape and size can be printed in a very short time. Our system also allows different white layer thicknesses to be printed. Thus, ink can be saved on a light textile and maximum ink coverage can be achieved on a dark ones.
The digitally printed transfers are characterized by outstanding color intensity. They can also be applied quickly and easily to cotton, polyester, 50/50 blends and various other materials. At the same time they are stretchable, colorfast and long-lasting.
Another advantage is that the transfers can be produced independently of the final application process. This means that they can be prepared for upcoming orders and called up for decoration as required. Screen printing, vinyl and digital transfers can thus be used in combination on any heat transfer press. Whether 100,000 single-color screen prints, plotted silver vinyl or digital photo prints.
Looking for transfers only?
Here, too, we can help you. We can supply you with heat transfers in all common DIN-A formats as well as custom sizes. Perfect for t-shirts, bags or hoodies as well as work, sports or leisure wear. Cotton, polyester, and blends can be printed with these transfers. Furthermore, we offer different variations for light and dark textiles as well as recommended settings for your textiles. Op top of that we also produce a transfer for maximum breathability going by the name DHT Tex Athletic!
We use a digital heat transfer printer to create DIGITRAN DHT Tex transfers and make them available in all quantities from 1 to 10,000 pieces. Even better, we can print and ship in just a few days. Just send us a short message with the intended quantity, size and application and we will send you back a personal quote.